---

Don't waste money mass mailing stagnant postcards with other companies. At Marketing 4 Dentists, we understand that targeted data is CRITICAL to the success of your direct mail campaign. So, let us help you find the very best data that will maximize your return on investment (ROI) and target your ideal patients. Marketing 4 Dentists allows you to target your prospects by a combination of filters including geography, income, age, presence of children, and many more.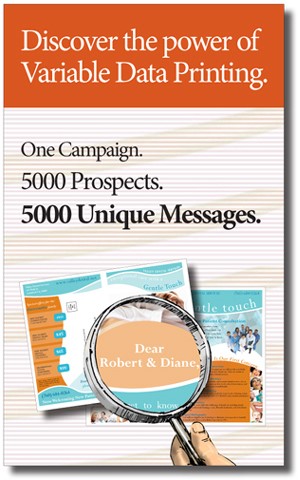 A targeted list is NOT ENOUGH.
Marketing 4 Dentists creates marketing designs that take ADVANTAGE of your targeted mailing list using a method called Variable Data Printing.
What is Variable Data Printing?
Essentially, each postcard we produce for you can vary its marketing message, graphics, and special offers depending on what the data tells us. The result? A group of prospects, that each receive a UNIQUE, PERSONALIZED postcard from you based on the household demographics. Yes...this means that each postcard can have different words and images based on the criteria of the prospect.
For example:
A postcard sent to a household with young children can have a pictures of families, advertise pediatric dentistry, and include offers like "FREE Children's Dental Exam." In the same campaign, a postcard sent to a neighbor who is 65 years old and retired can have pictures of Seniors, advertise restorative dentistry such as dentures and implants, and include offers like "New Patient Dental Cleaning for $50". As you can see, this technology allows you to have a sub marketing campaign, within a campaign to maximize your return on investment.
Basic Data Included with your Program
Most other dental marketing companies charge extra for data. We INCLUDE QUALITY DATA as a part of our programs. Our data is acquired from a top, nationally recognized vendor. It is current and fresh. The data that is included with your program consists of Owner Occupied Homes, including Single Family Residences (SFR), Condos, etc. In our experience, homeowners have attributes that make them very desirable as patients:
On average, homeowners will live in their home between 7 and 10 years, which means once they become connected to your practice, they are likely to become a long-term patient.


Homeowners tend to have multiple family members who can benefit from your services. Once you have one family member as a patient, the rest of the family is more likely to consider you for their dental needs. Family members who are satisfied with your services often refer other friends and relatives.


Homeowners generally have stable careers and jobs. They are better educated than non-owners. This means that they are more likely to have dental insurance or the means to pay for normal dental procedures and more profitable elective procedures, such as teeth whiting, etc.
Additional Filters for Targeting Data
The basic homeowner data is included at no extra charge. Now, to further target your marketing, we can filter the data using the "data selects" below. This ensures that you are only mailing to the exact type of households you wish to reach. Remember, we can design your postcard so that the information presented will be reflective of the household demographics. So, you can mix in seniors with households that have children and each can receive a different looking postcard in a mailing. That is how you take advantage of variable data marketing and increase Return on Investment.
Additional filters are priced at a cost per prospect. For example, suppose you want to target 2500 prospects with Children in the home and 2500 prospects with the Seniors in the home. We can include each additional filter for 1 cent per prospect when downloading your data. So, the extra cost for the downloading 5000 prospects is a ONE-TIME cost of only $50! Then, we can design two personalized cards, one targeted toward families, and one targeted toward prospects aged 55 and over. This powerful direct marketing tool will help your practice attract the types of people you want as patients.
Following are the data selects available:
Adult Age
Children Age Range
Ethnic Code
Ethnic Hispanic Country of Origin
Ethnic Language Preference Code
Ethnic Religion Code
Head HH Occupation
Home Assessed value
Home Market Value
Home Size (Sq. Feet)
$.01
$.01
$.01
$.01
$.01
$.01
$.01
$.01
$.01
FREE
Home Type (SFR, Condo) FREE
Household Size (# of people)
Income Code (HH)
Length of Residency
Marital Status
Number of Children
Owner Occupied Household
Presence of Children
Year Built
FREE
$.01
$.01
$.01
$.01
$.01
$.01
$.01
$.01

Data Procurement
Search Method 1: Radial Geographic Search
Your data is procured by performing a radial geographic search for the number of households you wish to reach. You may use your office location at the center of your search or another address of your choice. This method takes advantage of households directly around your office.
Search Method 2: Zip Code Search
Your data is procured by selecting households in zip codes that you select.
Mailing Schedule
Your mailing list (i.e. total # of households) will be sent out 4 times. Each mail drop will be scheduled 8 weeks apart unless otherwise arranged. At the end of your campaign, each prospect will have received four advertisements from your practice.
Tracking Results
Unique reference numbers appear on each marketing piece you send out. This provides you an advantage for several reasons.
It adds another level of personalization. In our designs, we often use this reference number as a promotional code for the offers you are advertising. For example: "Mr. & Mrs. Smith, Call us today and provide this promotional code to claim your coupons: 00001." This provides an incentive for the prospect to make a call, giving you first person contact.
It eases communication between you and your prospect. Marketing 4 Dentists provides you a list of the prospects after each mail drop. These mailing lists are organized by reference number. When a prospect calls and provides you with the reference number or "promotional code", you have an easy way of looking them up.
You can use these lists to track the areas generating the greatest response, etc. When a prospect becomes a patient, you can provide us the reference number and we will remove them from all future mailings.